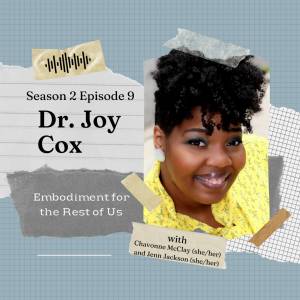 Embodiment for the Rest of Us – Season 2, Episode 9: Dr. Joy Cox
September 8, 2022
Chavonne (she/her) and Jenn (she/her) interviewed Dr. Joy Cox (she/her) about her embodiment journey.
Dr. Joy Cox is a body justice advocate using her skill set in research and leadership to foster social change through the promotion of fat acceptance and diversity and inclusion. With 39 years living as a fat, Black cisgendered woman and 8+ years of professional experience under her belt, Dr. Cox draws on her own experiences and skillset to amplify the voices of those most marginalized in society, bringing attention to matters of intersectionality addressing race, body size, accessibility, and "health."
Joy has been featured on several podcasts and media productions such as Food Psych with Christy Harrison, Nalgona Positivity Pride with Gloria Lucas, Fat Women of Color with Ivy Felicia, and the New York Times. Her book, Fat Girls in Black Bodies: Creating Communities of Our Own was released in 2020 and has received outstanding reviews and been featured in advocacy work near and far. Dr. Cox is the voice of an overcomer, looking to propel others into a place of freedom designed by their desires.
Website links:
Jabbie – www.getjabbie.com
Twitter – @DrJoyCox
Content Warning: discussion of privilege, discussion of diet culture, discussion of ableism, discussion of healthism
Trigger Warnings:
55:48: Joy discusses legislation that is harmful to the LGBTQIA+ community
The captions for this episode can be found at 
https://embodimentfortherestofus.com/season-2/season-2-episode-9-joy-cox/#captions/
A few highlights:
4:10: Joy shares her understanding of embodiment and her own embodiment journey
8:19: Joy discusses how the pandemic affected her embodiment practices
19:10: Joy shares embodiment practices for those adultified as children
33:09: Joy discusses her understanding of "the rest of us" and how she is a part of that, as well as her privileges
44:31: Joy shares the connection between community and embodiment
49:50: Joy discusses how structural change and community impact embodiment
1:02:43: Joy shares how listeners can make a difference based on this conversation as well as where to be found and what's next for her
Links from this episode:
Music: "Bees and Bumblebees (Abeilles et Bourdons​)​, Op. 562" by Eugène Dédé through the Creative Commons License
Please follow us on social media:
Website: embodimentfortherestofus.com
Twitter: @embodimentus
Instagram: @embodimentfortherestofus