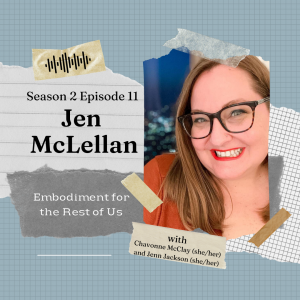 Embodiment for the Rest of Us – Season 2, Episode 10: Jen McLellan
October 6, 2022
Chavonne (she/her) and Jenn (she/her) interviewed Jen McLellan (she/her) about her embodiment journey.
Jen McLellan, CBE, is a published author, founder of Plus Size Birth, and host of the Plus Mommy Podcast. She helps people navigate the world of plus size pregnancy, shares tips for embracing your body, and laughs her way through the adventures of parenthood.
With over 7 million page views, Plus Size Bith is the premier plus size pregnancy resource trusted by parents and professionals. The Plus Mommy Podcast has over 280,000 downloads and was named one of the best pregnancy podcasts of 2022 by The Bump.
Jen's work has been featured in major publications, including The New York Times, Glamour, and Huffington Post.
As a public speaker, Jen has been featured at numerous events, including presenting at the National Institutes of Health. Jen is also a certified childbirth educator, wife, and mother to a charismatic twelve-year-old.
Plus Mommy Podcast – https://plusmommy.com/ 
Plus Mommy Instagram – https://www.instagram.com/plusmommy/ 
Plus Size Birth – https://plussizebirth.com/plus-size-pregnancy/
Plus Size Birth Instagram – https://www.instagram.com/plussizebirth/
My Size-Friendly Care Providers Guide (free guide on how to connect with a size-friendly care provider) – https://plussizebirth.com/subscribe/ 
Content Warning: discussion of privilege, discussion of diet culture, discussion of medical fatphobia, discussion of fatphobia, discussion of fatphobia
Trigger Warnings: None for this episode
The captions for this episode can be found at https://embodimentfortherestofus.com/season-2/season-2-episode-11-jen-mclellan/#captions/
A few highlights:
5:19: Jen shares her understanding of embodiment and her own embodiment journey
13:05: Jen discusses how the pandemic affected her embodiment practices
24:02: Jen shares her understanding of "the rest of us" and how she is a part of that, as well as her privileges
31:34: Jen discusses how podcasting has enhanced her connection to embodiment
36:56: Jen shares how advocating for fat pregnancy and birth has changed her own embodiment
52:36: Jen discusses how listeners can make a difference based on this conversation
1:00:19: Jen shares where to be found and what's next for her
Links from this episode:
Jen's Viral "Flying While Fat" IG Reel
Music: "Bees and Bumblebees (Abeilles et Bourdons​)​, Op. 562" by Eugène Dédé through the Creative Commons License
Please follow us on social media:
Twitter: @embodimentus
Instagram: @embodimentfortherestofus