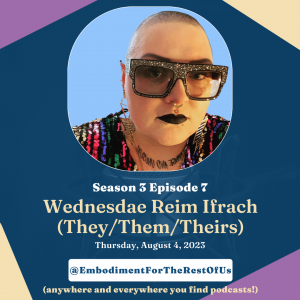 Embodiment for the Rest of Us – Season 3, Episode 7: Wednesdae Reim Ifrach
Thursday, August 3, 2023
Chavonne (she/her) and Jenn (she/her) interviewed Wednesdae Reim Ifrach (they/them) about their embodiment journey.
Wednesdae is a trans/non-binary art therapist, fat activist and artist whose work focuses on body justice, intersectional social justice and eating disorder treatment equity access.
They also co-own and operate Rainbow Recovery where they support people through the gender affirmation process, complex trauma recovery, eating disorder recovery and body image issues through the use of art, creative expression and traditional talk therapy.
Wednesdae melds the world of art therapy, social justice, trauma recovery and eating disorder recovery into a unique opportunity for people to expand their understanding of the world. To that end Wednesdae had the honor to participate in the Museum of Modern Art (MoMA)'s Artful Practices for Well-being and has had artwork on display at the Baltimore Museum of Art as part of Art as Activism.
They have presented at national and international conferences, are a former adjunct professor and continues to guest lecture. They also serve on the Board of Project HEAL, a non-profit whose mission is to create treatment equity access in the eating disorder field. Wednesdae's biggest passions outside of work include spending time with their many rescue animals, experimenting with traditional family recipes, painting, and spending time with their partner.
Content Warning: discussion of privilege, discussion of diet culture, discussion of fatphobia, discussion of racism, discussion of mental health, discussion of chronic medical issues, discussion of harm caused by helping professionals
Trigger Warnings:
1:14:40: Wednesdae discusses how sexual abuse can be covered by calling victims in treatment "noncompliant"
1:15:18: Wednesdae discusses typical eating disorder rules and how harmful and wrong they are
1:17:59: Wednesdae discusses their history of abuse
1:22:14: Wednesdae uses the word "nuts" in a way that is ableist
A few highlights:
5:36: Wednesdae shares their understanding of embodiment and their own embodiment journey
19:58: Wednesdae discusses how the pandemic affected their embodiment practices
54:57: Wednesdae shares their understanding of "the rest of us" and how they are a part of that, as well as their privileges
1:07:58: Wednesdae discusses how their work with Rainbow Recovery and Project HEAL has influenced their own relationship with embodiment
1:19:04: Wednesdae shares how stereotypes of productivity, availability, and capability/capacity relate to being a clinician
1:24:48: Wednesdae discusses how listeners can make a difference based on this conversation
1:26:28: Wednesdae shares where to be found and what's next for them
Links from this episode:
Music: "Bees and Bumblebees (Abeilles et Bourdons​)​, Op. 562" by Eugène Dédé through the Creative Commons License
Please follow us on social media:
Twitter: @embodimentus
Instagram: @embodimentfortherestofus