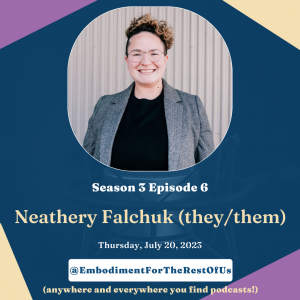 Embodiment for the Rest of Us – Season 3, Episode 6: Neathery Falchuk
Thursday, July 20, 2023
Chavonne (she/her) and Jenn (she/her) interviewed Neathery Falchuk (they/them) about their embodiment journey.
Neathery Falchuk (they/them) is a queer, trans and non-binary, white Latinx, fat, and neurodivergent therapist, licensed clinical social worker and supervisor, certified group psychotherapist, certified Body Trust® provider, and certified meditation teacher. Neathery is the founder of Ample and Rooted, an inclusive psychotherapy, consulting, and training practice specializing in working with eating disorders, body liberation, sex and sexuality, gender, relationship concerns, trauma, mindfulness, grief and loss, and substance use. Neathery is a past President of Central Texas Eating Disorder Specialists, past board member of Austin Group Psychotherapy Society and former chair of the DEI Committee, past board member of the Association for Size Diversity and Health, and currently serves on the program committee for Project HEAL. Neathery lives in Austin, TX with their wife and enjoys hiking, meditation, sipping coffee on patios, and starting and never finishing books.
Ample + Rooted, as an inclusive therapy practice, cultivates a safe and welcoming space of compassion and connection. At Ample + Rooted, we believe it is our birthright to inhabit, trust and honor our physical and emotional selves without shame. We believe in cultivating a healing home for the whole you and that this healing and belonging is profoundly vital in creating a more equitable and just world. We believe compassion, pleasure and embodiment lead the way toward healing and liberation.
The practice is rooted in Health at Every Size®, Body Trust®, fat-positive, sex-positive, LGBTQ+ affirming, harm reduction, trauma-responsive, culturally responsive, and anti-oppressive frameworks.
For more information, please visit: www.ampleandrooted.com and follow us on IG: @ampleandrooted
Content Warning: discussion of privilege, discussion of diet culture, discussion of fatphobia, discussion of racism, discussion of mental health, discussion of death of a family member
Trigger Warnings: None for this episode
A few highlights:
5:46: Neathery shares their understanding of embodiment and their own embodiment journey
21:33: Neathery discusses how the pandemic affected their embodiment practices
52:25: Neathery shares their understanding of "the rest of us" and how they are a part of that, as well as their privileges
1:07:49: Neathery discusses how their work with Ample + Rooted Foundations has influenced their own relationship with embodiment
1:24:48: Neathery shares how their work with the Ample + Rooted Gathering Space has enhanced their embodiment within our field and the changes, revolutions, and evolutions they are working on making
1:40:43: Neathery discusses how listeners can make a difference based on this conversation
1:43:10 Neathery shares where to be found and what's next for them
Links from this episode:
Music: "Bees and Bumblebees (Abeilles et Bourdons​)​, Op. 562" by Eugène Dédé through the Creative Commons License
Please follow us on social media:
Twitter: @embodimentus
Instagram: @embodimentfortherestofus