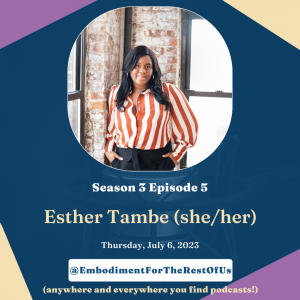 Embodiment for the Rest of Us – Season 3, Episode 5: Esther Tambe
July 6, 2023
Chavonne (she/her) and Jenn (she/her) interviewed Esther Tambe (she/her) about her embodiment journey.
Esther Tambe is a Registered Dietitian and Certified Diabetes Care and Education Specialist based in Long Island, NY. She is the founder of Esther Tambe Nutrition, LLC. She received her master's degree in Nutrition with a concentration in Exercise Science from Long Island University. She also received her bachelor's degrees in Nutrition from Long Island University and Health Science-Public Health at Stony Brook University.
Esther has worked in underserved communities, providing nutrition education and counseling to individuals with chronic illnesses like diabetes, hypertension, chronic kidney disease, and HIV/AIDS.
Esther is committed to increasing awareness of eating disorders and weight-inclusive nutrition counseling in Black communities. In addition to her work as a dietitian, Esther is involved in several other projects and initiatives.
In August 2020, Esther co-founded Fight Through Flights Inc. This non-profit organization aims to empower and support the healing of Black women living with breast cancer and breast cancer survivors.
Esther enjoys traveling worldwide, taking Zumba classes, and spending time with her family outside of work.
Content Warning: discussion of privilege, discussion of diet culture, discussion of fatphobia, discussion of eating disorders, discussion of healthism, discussion of racism, discussion of mental health
Trigger Warnings: 
53:48: Jenn discusses prescribed weight loss
A few highlights:
3:53: Esther shares her understanding of embodiment and her own embodiment journey
7:54: Esther discusses how the pandemic affected her embodiment practices
20:49: Esther shares her understanding of "the rest of us" and how she is a part of that, as well as her privileges
28:20: Esther discusses how her work with historically and currently marginalized populations has influenced her own relationship with embodiment
34:16: Esther shares her experience with embodiment as a diabetes educator
1:06:45: Esther discusses how listeners can make a difference based on this conversation
1:08:18: Esther shares where to be found and what's next for her
Links from this episode:
Music: "Bees and Bumblebees (Abeilles et Bourdons​)​, Op. 562" by Eugène Dédé through the Creative Commons License
Please follow us on social media:
Twitter: @embodimentus
Instagram: @embodimentfortherestofus