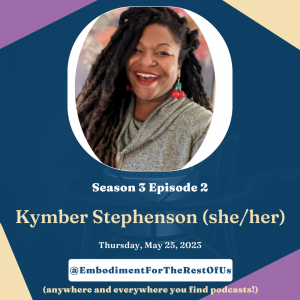 Embodiment for the Rest of Us – Season 3, Episode 2: Kymber Stephenson
May 25, 2023
Chavonne (she/her) and Jenn (she/her) interviewed Kymber Stephenson (she/her) about re-embodiment, the stepping stones that support neurodivergent embodiment, and what's next in her embodiment journey.
Kymber Stephenson (she/her) is a registered dietitian nutritionist living & working in Fort Collins, Colorado. As the Clinical Director at Side by Side Nutrition, she supports clients and clinicians in their exploration of what embodiment & food flexibility could be in today's world.  Kymber came to this work passionate about inclusive disordered eating management and prevention. She believes all people deserve equitable access to quality food and evidence-based nutrition education, regardless of status or background. In this vein, she focuses on educating clients about the multi-faceted ways history, marketing, food systems, culture, psychology, and body image affect health and relationships to nutrition, food, and body.
Recognizing the complex, sometimes painful associations brought on by these challenges, she works with her clients to find their vision for their most peaceful relationship with food, acknowledging not only its nourishing properties, but truly embracing its comforts, tradition, and fun! Kymber's philosophy is that disordered eating is rooted primarily in an iceberg of social injustice, and that it is an individual's birthright to reclaim a peaceful, confident relationship with food while embracing satisfaction in their bodies and their overall lives.
Content Warning: discussion of privilege, discussion of diet culture, discussion of fatphobia, discussion of eating disorders, discussion of healthism, mention of anti-choice laws
Trigger Warnings: None for this episode
A few highlights:
4:30: Kymber shares how her understanding of the complexities of embodiment and neurodivergence, specifically ADHD, has changed for her
31:26: Kymber discusses re-embodiment
51:53: Kymber discusses the process of body imaging
1:12:43: Kymber shares how the complexities of all of the parts that live within us show up in embodiment work
1:27:52 Kymber discusses looking for "what's next"
1:35:21: Kymber shares how body autonomy, personal agency, safety, and security are intrinsic to embodiment conversations
1:42:50: Kymber discusses and what's next for her personally and professionally
Links from this episode:
ADHD and Children's Self-Esteem
Adult Children of Emotionally Immature Parents
The Blackfoot People's Hierarchy of Needs
Rejection Sensitivity Dysphoria
US Airplane Cockpit Measurement Study
Music: "Bees and Bumblebees (Abeilles et Bourdons​)​, Op. 562" by Eugène Dédé through the Creative Commons License
Please follow us on social media:
Twitter: @embodimentus
Instagram: @embodimentfortherestofus