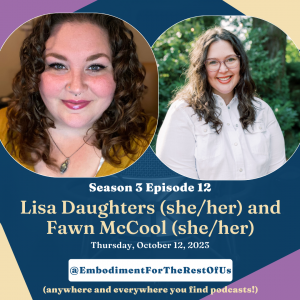 Embodiment for the Rest of Us – Season 3, Episode 12: Lisa Daughters and Fawn McCool
Thursday, October 12, 2023
Chavonne (she/her) and Jenn (she/her) interviewed Lisa Daughters (she/her) and Fawn McCool (she/her) about their embodiment journeys.
Lisa Daughters (she/her) is a HAES-aligned fat-positive, LGBTQIA+ allied, social justice informed Expressive Arts Therapist. She works with fat folx, LGBTQIA+ community, grief/loss, fertility struggles and pregnancy loss, relationship challenges, family dynamics – these are all near and dear to her. She has been serving clients as a professional counselor for 12 years, working with a variety of settings and concerns. She works from a person-centered approach, using humor, mindfulness, and acceptance as tools of healing and transformation. She believes in the need to broaden our view from seeing individual struggles as collective, moving towards solutions that foster interdependence and equity. She approaches counseling as a co-creation, and considers her role to be an insightful companion through the process. She trusts the inherent wholeness of each individual. I have specific training in Expressive Arts Therapy, which utilizes art-making as therapeutic.
Lisa is strongly anti-diet and diet-culture. She is involved in the fat liberation movement. And it's impossible to talk about body politics without talking about racism, misogyny, and ableism. She is anti-capitalist, and anti-racist. She loves animals and spent years before becoming a therapist working with animals. She believes current social and economic structures have stripped our sense of community and our emotional experiences have been villainized and pathologized to the point that mental health is a growing challenge. She thinks it's a disservice to focus only on individual health without also addressing community. She does not believe in the paternalistic dynamic that she has seen in the mental health world, and she thinks to do my work well she has to be continually learning.
*
Fawn McCool (she/her pronouns), is a Licensed Clinical Social Worker (LCSW) with a private practice based in Portland, Oregon. Her therapeutic approach is warm, nurturing, collaborative, engaged, and nerdy. She loves brain science so there MIGHT be some mention of neural plasticity or blaming of neural pathways along the way. She will shame the patriarchy, never you.
As an LCSW, she has worked in a variety of settings providing skilled trauma-informed services to families, women and children. She offers clinical therapeutic services in Tigard, OR and enjoys working with a wide variety of issues including but not limited to: trauma, depression, anxiety, OCD, ADHD, perinatal/postpartum mood and anxiety disorders, infant loss, and fertility issues .
She received her Masters of Social Work degree at California State University, Los Angeles in 2006. Her professional credentials include certification in Interpersonal Neurobiology through Portland State University and is Ample & Rooted trained.
Additionally, she has had the honor of presenting at several professional conferences focused on Neonatal Intensive Care Unit experiences, neuroscience & birth trauma, and behavioral health counseling in school based health centers.
She is an anti-racist, LGBTQ+ affirming, and HAES provider.
Content Warning: discussion of privilege, discussion of diet culture, discussion of fatphobia, discussion of racism, discussion of fatphobia in the career space, discussion of mental health, discussion of chronic medical issues
40:28-53:29: Chavonne's audio goes a bit wonky
Trigger Warnings: 
34:22: Fawn mentions Noom and Ozempic
49:42: Lisa uses the words "crazy" and "nutty" in a way that is ableist
A few highlights:
7:08: Lisa and Fawn share their understanding of "the rest of us" and how they are a part of that, as well as their privileges. They also discuss how the word "Rest" right in the middle of the podcast name feels, occurs, and shows up for them.
1:01:15: Fawn and Lisa discuss how supporting clients has changed and challenged their own relationships with their embodiment
1:46:47: Lisa and Fawn discuss how listeners can make a difference based on this conversation
1:57:48: Fawn and Lisa share where to be found and what's next for them
Links from this episode:
Adult Children of Emotionally Immature Parents
Persistent Drive for Autonomy (PDA)
Rejection Sensitivity Dysphoria
Music: "Bees and Bumblebees (Abeilles et Bourdons​)​, Op. 562" by Eugène Dédé through the Creative Commons License
Please follow us on social media:
Twitter: @embodimentus
Instagram: @embodimentfortherestofus