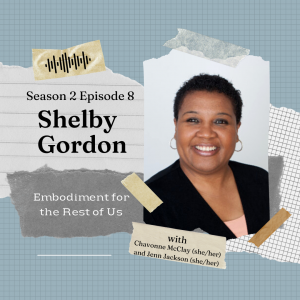 Embodiment for the Rest of Us – Season 2, Episode 8: Shelby Gordon
August 25, 2022
Shelby is a retired world-champion, professional dieter who broke the chains of restriction, excessive exercise, and body hatred by embracing Body Trust®. She now works with helping professionals and organizations to ignite and elevate their awareness of the intersection of fusion of systemic racism and dehumanizing diet culture.  She is an awesome daughter, prolific social media disrupter and future puppy owner.
Content Warning: discussion of privilege, discussion of diet culture and behaviors, mention of mental health struggles, discussion of co opting of BIPOC practices, discussion of healthism
Trigger Warnings:
11:57, 13:55, and 59:20: Shelby uses the word "tribe" in a way that is offensive
11:59: Shelby discusses a suicide
21:50: Shelby discusses the murder of George Floyd
30:01: Shelby discusses Lindo Bacon's work before more awareness of the harm that they have caused in their work came to light in the first two weeks of March 2022 here, here, here, and here among others (with updates here and here) (this episode was recorded in early March 2022)
42:50 and 55:16: Shelby uses the word "crazy" in a way that is ableist
A few highlights: 
3:55 Shelby shares her understanding of embodiment and her own embodiment journey
19:41: Shelby discusses how the pandemic affected her embodiment practices
32:17: Shelby shares how her social media work affects her own embodiment
40:03:  Shelby discusses how humor can be helpful with practicing embodiment
44:19: Shelby discusses the lack of nuance of embodiment in social media
53:16: Shelby shares her understanding of "the rest of us" and how she is a part of that, as well as her privileges
1:12:06: Shelby discusses how listeners can make a difference based on this conversation
1:26:04: Shelby shares where to be found and what's next for her
Links from this episode: 
Music: "Bees and Bumblebees (Abeilles et Bourdons​)​, Op. 562" by Eugène Dédé through the Creative Commons License 
Episode Editing:
A special shout out to Christine Anatone at Anatone Creative, who was our editor for this episode. THANK YOU CHRIS!!!
Please follow us on social media: 
Twitter: @embodimentus
Instagram: @embodimentfortherestofus