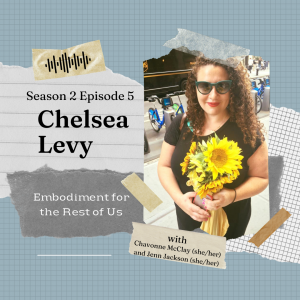 Embodiment for the Rest of Us – Season 2, Episode 5: Chelsea Levy
June 30, 2022
Chavonne (she/her) and Jenn (she/her) interviewed Chelsea Levy (she/her) about her embodiment journey. This is part 2, the encore, of our first-ever two-part episode!
Chelsea Levy (she/her) is a Certified Intuitive Eating Counselor and registered dietitian nutritionist. She earned her Master of Science from Hunter College and completed her dietetic internship at the City of New York (CUNY) School of Public Health. Chelsea utilizes Health at Every Size® (HAES®) principles in her approach to nutrition therapy. She works with individuals struggling with disordered eating and eating disorders, with a focus on weight-inclusive medical nutrition therapy, body image healing, and Intuitive Eating. Chelsea has interest in treating individuals with diabetes, and polycystic ovary syndrome (PCOS) along with folks, who are in larger-bodies, and those who are transgender or non-binary. She believes it is vital to provide care relevant to an individual's culture, ethnicity, and overall identities. Chelsea hosts a collaborative space for the exploration of food and body healing through creativity and compassion.
Instagram: @ChelseaLevyNutrition
Content Warning: discussion of privilege, discussion of diet culture, mention of mental health struggles, discussion of dissociation
A few highlights:
6:54: Chelsea discusses her understanding of "the rest of us"
11:04: Chelsea shares embodiment practices do you recommend for folks experiencing various stages of eating disorder recovery
41:36: Chelsea shares how she help clients tune into the nuance of their lived experiences
52:46: Chelsea discusses her take on IE, HAES® and AND
1:06:24: Chelsea shares her online eating support on IG
1:15:27: Chelsea discusses ways in which conversations about embodiment miss the mark by letting systems and those in power off the hook
1:24:49: Chelsea shares how listeners can make a difference based on this conversation
1:30:47: Chelsea discusses how to be found and what's next for her
Links from this episode:
ASDAH's response to Academy of Nutrition and Dietetics' Evidence Analysis Library (1)
ASDAH's response to Academy of Nutrition and Dietetics' Evidence Analysis Library (2)
BIPOC Eating Disorder Conference
Food Insecurity and Eating Disorders
Health At Every Size® (HAES®) (especially the FAQ for the origin of the HAES® movement)
Stress and Digestion (2): (TW/CW for the second page and fatphobic suggestions)
Fat Positive and Fat Liberation Reading Recommendations Beyond HAES® lists from Nikki Haggett and Vinny Welsby
Here is some info about what went on since March of 2022 regarding HAES® and the book's author: here, here, here, and here among others (with updates to some of those here and here). 
Music: "Bees and Bumblebees (Abeilles et Bourdons​)​, Op. 562" by Eugène Dédé through the Creative Commons License
Please follow us on social media:
Twitter: @embodimentus
Instagram: @embodimentfortherestofus