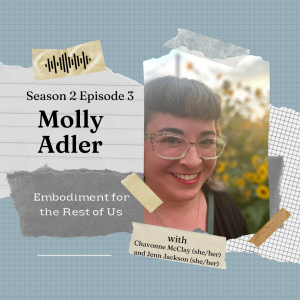 Embodiment for the Rest of Us – Season 2, Episode 3: Molly Adler
June 2, 2022
Chavonne (she/her) and Jenn (she/her) interviewed  Molly Adler(she/her) about her embodiment journey.
Molly is a Certified Sex Therapist with the American Association of Sexuality Educators, Counselors and Therapists (AASECT). Her practice Sex Therapy New Mexico is based in Albuquerque, New Mexico on Tiwa land. She works with a lot of clients who are LGBTQ2S+, BIPOC, anti-racist, activists, polyamorous, and/or kink identified. Her approach is compassionate, grounded, pleasure-centered, light-hearted & social justice oriented. She enjoys the micro-level therapeutic work, as well as working towards structural change by offering training for healthcare providers and institutions who want to be more inclusive of sexual and gender diversity in their work.  Previously she co-founded and co-directed Self Serve Toys, New Mexico's first and only sex-positive, health- and education-focused adult shop and resource center for its first eight years.
Content Warning: discussion of privilege, discussion of diet culture, mention of mental health struggles, mention of dissociation, mention of rape culture
Trigger Warnings:
33:12: Molly discusses sexual violence and abuse
1:09:59: Chavonne uses a term that is harmful to some of those experiencing gender expansiveness
A few highlights:
4:55: Molly shares her understanding of embodiment and her own embodiment journey
15:37: Molly discusses how the pandemic has affected her devotion to embodiment, what lights her up up on a regular basis to feel embodied how to make this accessible for everyone
35:46: Molly shares how one's sense of embodiment impacts sexual pleasure and vice-a-versa
49:30: Molly discusses her understanding of "the rest of us" and how she is a part of that, as well as her privileges
1:09:38: Molly discusses gender expansiveness and embodiment practices for those experiencing it
1:21:35: Molly shares her definition of pleasure liberation
1:29:10: Molly discusses Self Serve and Aliso Roots Community Collective and why physical spaces are important in fostering liberation
1:42:12: Molly shares how listeners can make a difference based on this conversation
1:47:37: Molly discusses where to be found and what's next for her
Links from this episode:
Fight-Flight-Freeze-Fawn Response
Internal Family Systems Therapy
Leah Lakshmi Piepzna-Samarasinha
Also, two extra resources Molly wanted to pass along!
Music: "Bees and Bumblebees (Abeilles et Bourdons​)​, Op. 562" by Eugène Dédé through the Creative Commons License
Please follow us on social media:
Twitter: @embodimentus
Instagram: @embodimentfortherestofus