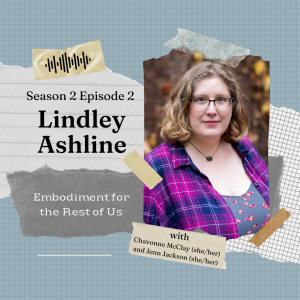 Embodiment for the Rest of Us – Season 2, Episode 2: Lindley Ashline
May 19, 2022
Chavonne (she/her) and Jenn (she/her) interviewed Lindley Ashline (she/her) about her embodiment journey.
Lindley Ashline creates photographs that celebrate the unique beauty of bodies that fall outside conventional "beauty" standards. She fights weight stigma by giving fat people a safe place to explore how their bodies look on camera and by increasing the representation of fat bodies in photography, advertising, fine art and the world at large.
Lindley is also the creator of Body Liberation Stock (body-positive stock images for commercial use) and the Body Love Shop (a curated resource for body-friendly products and artwork). Find Lindley's work and get her free weekly Body Liberation Guide at http://bit.ly/bodyliberationguide.
Website: http://www.bodyliberationphotos.com
Instagram: https://www.instagram.com/bodyliberationwithlindley/
Facebook: https://www.facebook.com/bodyliberationphotos/
Twitter: https://twitter.com/lindleyashline
Content Warning: discussion of privilege, discussion of diet culture, mention of mental health struggles, mention of trauma and complex trauma, discussion of healthism, mention of unintentional weight loss, discussion of internalized fatphobia
Trigger Warnings:
58:45: Jenn discusses her internalized fatphobic messages
1:02:48: Lindley discusses harmful stereotypes about fat people
A few highlights:
4:13: Lindley shares her understanding of embodiment and her own embodiment journey
37:37: Lindley discusses how the pandemic has affected her devotion to embodiment, what lights her up up on a regular basis to feel embodied how to make this accessible for everyone
1:26:15: Lindley discusses her understanding of "the rest of us" and how she is a part of that, as well as her privileges
1:29:44: Lindley discusses fat liberation, body liberation, and photography
1:46:22: Lindley shares how listeners can make a difference based on this conversation
1:54:14: Lindley shares where to be found and what's next for her
Links from this episode:
Lindley's Definitions of Liberation
Lindley's Medium Article about Photoshopping
Here is some info about what went on in since March of 2022 regarding HAES® and the book's author, including direct harm of our interviewee: here, here, here, and here among others (with updates to some of those here and here).
Music: "Bees and Bumblebees (Abeilles et Bourdons​)​, Op. 562" by Eugène Dédé through the Creative Commons License
Please follow us on social media:
Twitter: @embodimentus
Instagram: @embodimentfortherestofus