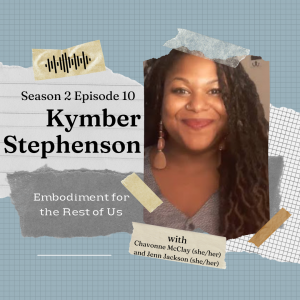 Embodiment for the Rest of Us – Season 2, Episode 10: Kymber Stephenson
September 22, 2022
Chavonne (she/her) and Jenn (she/her) interviewed Kymber Stephenson (she/her) about her embodiment journey.
Kymber Stephenson is a Registered Dietitian Nutritionist living and working in Colorado. Her experience began with a love of food which led her to pursue a degree in Culinary Arts from Johnson & Wales University. As her love of science and helping people wove with that initial path, she continued on to a Bachelor of Science in Culinary Nutrition with a dual concentration in clinical dietetics and culinary food science. From there, her background spanned diverse roles across the food, nutrition, and healthcare sectors as she went on to ground in medical nutrition therapy.
Kymber is especially passionate about disordered eating management and prevention. In this vein, she focuses on educating clients about the multi-faceted ways history, marketing, food systems, culture, psychology, and body image affect health and relationships to nutrition, food, and body. She works with clients to restore & build their relationship with food, acknowledging not only its nourishing properties, but truly embracing its comforts, tradition, and fun! Kymber is a strong believer in a whole person approach, embracing integrated body image counseling which often goes far deeper than simply body or image.
Working in a client-guided manner and Health at Every Size-informed, she strives to help each unique person reach their idea of peace and satisfaction in their bodies and their overall lives. Kymber's driving philosophy is that all people deserve equitable access to quality food, evidence-based nutrition education, informed consent, and bodily autonomy regardless of status or background.
Socials: https://www.linkedin.com/in/kymberstephenson
Content Warning: discussion of privilege, discussion of diet culture, discussion of ableism, discussion of healthism
Trigger Warnings:
49:18: Kymber discusses Lindo Bacon's work before more awareness of the harm that they have caused in their work came to light in the first two weeks of March 2022 here, here, here, and here among others (with updates here and here) (this episode was recorded in April 2022)
1:13:44: Chavonne discusses how white supremacy culture impacts her eating behaviors
A few highlights:
2:49: Kymber shares her understanding of embodiment and her own embodiment journey
14:54: Kymber discusses how the pandemic affected her embodiment practices
34:54: Kymber shares her understanding of "the rest of us" and how she is a part of that, as well as her privileges
48:20: Kymber discusses her take on IE, HAES® and AND
1:26:06: Kymber shares how listeners can make a difference based on this conversation as well as where to be found and what's next for her
Links from this episode:
ASDAH's response to Academy of Nutrition and Dietetics' Evidence Analysis Library (1)
ASDAH's response to Academy of Nutrition and Dietetics' Evidence Analysis Library (2)
Health At Every Size® (HAES®) (especially the FAQ for the origin of the HAES® movement)
Music: "Bees and Bumblebees (Abeilles et Bourdons​)​, Op. 562" by Eugène Dédé through the Creative Commons License
Please follow us on social media:
Website: embodimentfortherestofus.com
Twitter: @embodimentus
Instagram: @embodimentfortherestofus