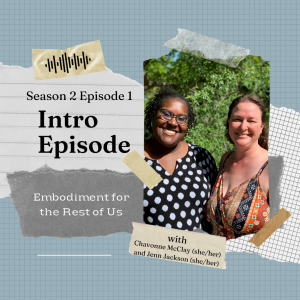 Embodiment for the Rest of Us – Season 2, Episode 1: Season 2 Intro
May 5, 2022
Chavonne (she/her) and Jenn (she/her) discuss season 2! They answer some of the questions they asked their incredible interviewees during the upcoming season.
Content Warning: discussion of privilege, discussion of diet culture, discussion of racism, discussion of internalized ableism and fatphobia, mention of mental health struggles
Trigger Warnings:
51:43: Discussion about Lindo Bacon's harm. Here is some info about what has been going on for the last two months: here, here, here, and here among others (with updates to some of those here and here). Unfortunately, further updates center the one who harmed and do not center the most marginalized, so they are not included here within these show notes.
1:21:13: Chavonne mentioned Virgie Tovar's book. Due to us just learning about past harm caused by Virgie Tovar to Black and superfat folks, we do not link to her book
A few highlights:
1:54: Chavonne and Jenn share what stood out for them most from Season 1
10:05: Jenn and Chavonne discuss embodiment as a pleasure practice
30:52: Chavonne and Jenn discuss how to tune into the nuance of embodiment through many life experiences
43:12: Jenn and Chavonne share embodiment practices for folks moving through grief and toward liberation
51:40: Chavonne and Jenn share their takes on IE and HAES in light of problematic events that took place in 2021
1:08:55: Jenn and Chavonne share how they intend to center and send more compensation to those in marginalized spaces
1:17:47 Chavonne and Jenn discuss bibliotherapy and reading about body liberation
Links from this episode:
Health At Every Size® (HAES®) (especially the FAQ for the origin of the HAES movement)
Medium Article re: Paying a Tribal Land Rent
Music: "Bees and Bumblebees (Abeilles et Bourdons​)​, Op. 562" by Eugène Dédé through the Creative Commons License
Please follow us on social media:
Instagram: @embodimentfortherestofus
Twitter: @embodimentus