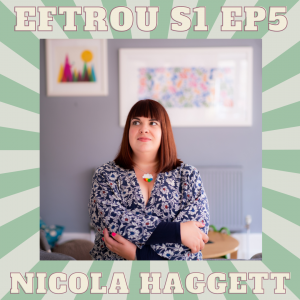 Embodiment for the Rest of Us – Season 1, Episode 5: Nicola Haggett
Thursday, October 28, 2021
Chavonne (she/her) and Jenn (she/her) interviewed Nicola Haggett (she/her) about her embodiment journey. To learn more about her work, follow her on Instagram under the handle @nicolahaggett or find her on her website, www.nicolahaggett.com.
Nicola Haggett is a Body Trust Coach, Mentor, & Facilitator. She helps folks to unlearn body shame, rebuild self trust, and have a more compassionate, connected, and nourishing relationship with their "here and now" body. Nicola is a professionally trained, experienced and compassionately curious Coach, Certified Body Trust® Provider, Intuitive Eating Facilitator, and Open Heart Project Meditation Instructor.
She describes herself as fat (a word she has reclaimed as a neutral descriptor for her body) and her lived experience as a fat person are an important part of what she brings to her work. Nicola believes that it's possible to nourish, care for, and build trust with your body, despite living in a culture that tells you that you need to shrink to fit in. She sees clients online from her home in East London, where she lives with her husband, Ricky, and their two kids.
Content Warning: discussion of privilege, mention of ableism, mention of neurodiversity barriers
Trigger Warnings:
14:39: Nicola discusses her experience of medical fatphobia during her pregnancies
18:37: Chavonne discusses her experience of medical fatphobia during her pregnancies
24:30: Jenn discusses wheelchairs damaged on flights
A few highlights:
4:40: Nicola shares her understanding of embodiment and her own embodiment journey
Addendum: From Nicola: "I talk about my recent diagnosis with ADHD, and at a couple of points I refer to my kids' neurodiversity also. As I read more about what this means for both of us I have learned to use the word neurodivergence instead."
14:39 Nicola shares her experience of medical fatphobia during her pregnancies
29:27: Nicola discusses her understanding of "the rest of us" and how she is a part of that, as well as her privileges
31:34: Nicola shares her daily embodiment practice and her take on the word "resilience"
1:04:57: Chavonne repairs with Nicola in the moment
1:07:34: Nicola discusses body stories and their intersections that come up with body justice and fat liberation
Addendum: Nicola credits Hilary Kivaney and Dana Sturtevant of BeNourished, who shared some of the questions as part of her Body Trust Provider training
1:17:45: Nicola discusses how trusting our bodies is the opposite of the search for a cure or purification
Addendum: Nicola wants to name that she is learning from Disability Justice and particularly Eli Clare's work
1:31:10: Nicola discusses how perfectionism benefits from our shame
Addendum: Nicola credits Tema Okun's work in this regard and also credits Desiree Adaway, who first introduced her to the article below about white supremacy culture when she did Freedom School a few years ago
1:35:51: Nicola shares how listeners can make a difference based on this conversation
1:39:29: Nicola shares how to be found and what's next for her
Links from this episode:
The Body Is Not An Apology by Sonya Renee Taylor
"The Needy Podcast" episode with Nicola (CW: discusses medical fatphobia in pregnancy)
Niva Piran and the Developmental Theory of Embodiment
Wheelchairs Being Broken on Flights
White Supremacy Culture Characteristics
Music: "Wheel of Karma" by Jason Shaw
Please follow us on social media:
Twitter: @embodimentus
Instagram: @embodimentfortherestofus