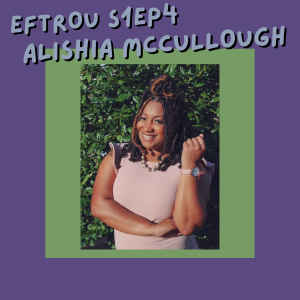 Embodiment for the Rest of Us – Season 1, Episode 4: Alishia McCullough
Thursday, October 14, 2021
It's the first interview! Woohoo! Chavonne (she/her) and Jenn (she/her) interviewed Alishia McCullough (she/her) about her embodiment journey. To learn more about her work, feel free to connect with her on social media under the handle @blackandembodied.
Alishia McCullough is a millennial Licensed Clinical Mental Health Therapist currently residing in the DMV. She is also an independently published author of the book Blossoming. Alishia is passionate about racial healing, and anti-colonialism within eating disorders. She is motivated to increase access and create spaces for Black, Indigenous and People of the Global Majority to come together and heal in ways that inspire holistic wellness and liberation focused healing. Outside of her clinical work, she is a Co-Founder of the AmplifyMelanatedVoices Movement  and the Founder of The Holistic Black Healing Collective. Her work has been featured by Target, Bustle, Popsugar, LA Times, and Forbes.
Content Warning: discussion of privilege, mention of ableism
Trigger Warnings:
53:20: Jenn discusses the history of slavery on Turtle Island
53:54: Jenn discusses mass graves in North American residential schools
1:24:26: Alishia discusses experimentation on and exploitation of Black people
A few highlights:
4:22: Alishia shares her understanding of embodiment and her own embodiment journey
11:08: Alishia discusses how her IG presence came to be
13:31: Alishia discusses starting the #AmplifyMelanatedVoices Movement with Jessica Wilson
21:07: Alishia discusses her understanding of "the rest of us" and how she is a part of that, as well as her privileges
38:52: Alishia discusses how unchecked privilege from providers can cause harm
45:20: Alishia discusses how using BI&POC rather than BIPOC has changed her work
56:21: Correction: The activist discussed is Gloria Richardson and not Akeelah Richardson.
57:50: Alishia shares wise words to young people on how to support their embodied practices
1:06:47: Alishia discusses embodiment and religion
1:18:23: Alishia discusses how helping professionals can center the people they serve when working with them
1:24:51: Correction: The woman discussed is Sarah Baartman and not Sarah Barton.
1:28:31: Alishia shares how listeners can make a difference based on this conversation
Links from this episode:
Amplify Melanated Voices Movement
"Food Is Not The Enemy" Article
Mass Graves of North American Indigenous Residential Schools
Quote about Identity from Chimamanda Ngozi Adichie's Novel "Half of a Yellow Sun"
Religious Trauma, White Supremacy, & Eating Disorders Online Panel
Music: "Wheel of Karma" by Jason Shaw
Please follow us on social media:
Twitter: @embodimentus
Instagram: @embodimentfortherestofus