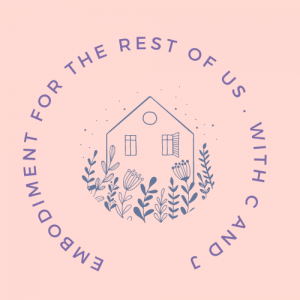 Embodiment for the Rest of Us – Season 1, Episode 1: Co-Host Interviews
Thursday, August 26, 2021
In this episode, Chavonne (she/her) and Jenn (she/her) interview one another in order to introduce themselves to the audience!
Content Warning: discussion of privilege, mention of eating disorders, mention of mental health concerns
A few highlights:
2:29: Chavonne introduces herself
3:33: Correction: Chavonne has been a licensed clinical social worker since 2013
3:47: Correction: Chavonne says "making food with peace" when she meant "peace with food"
5:41: Jenn introduces herself
14:48: How Chavonne came up with this podcast
21:16: Why Jenn wanted to do this podcast, too
30:48 Correction: Jenn did not come up with this idea about HAES® being inside the Medical Industrial Complex, it came from Da'Shaun Harrison. Jenn also mispronounces their name. See link to Twitter thread below!
36:35: What "embodiment" and "the rest of us" mean to us
Links from this episode:
Da'Shaun Harrison's Twitter Thread: HAES®
Nothing About Us Without Us: Disability Oppression and Empowerment
Music: "Wheel of Karma" by Jason Shaw
Make sure to follow us on social media:
Twitter: @embodimentus
Instagram: @embodimentfortherestofus